Volcano Island Cruise

For information on future Caribbean Volcano Cruises please email: Lead@candw.ms
The following is information on what the cruises are all about...
---
The picture that you see here is of the top sail schooner, Sir Robert Baden Powell. Our annual cruises follow the path the Arawak Indians took a thousand years ago and we may visit any of the islands from Grenada in the south to the northernmost volcano in Saba. We try to make each years schedule unique and interesting. The ship is an unbelievably beautiful 140 foot steel sailing schooner. It can also be seen at: http://www.sir-robert.com where you can find information on the other cruises available both in the Caribbean and the Mediterranean.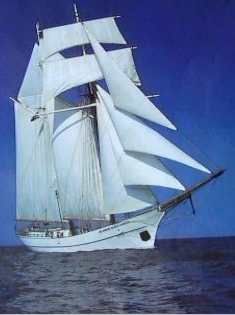 We generally like to sail with 12 to 16 people and the Cruise usually takes place in April or May. The 2001 adventure was 10 days long and began in Martinique on April 2nd, and ended in St. Martin on April 14. The 2002 cruise is already booked as there is a big volcanological conference in Martinique taking place on May 8th. This is the 100th anniversary of the eruption of Mt. Pelee and there will be volcanologists attending from all over the world. David Lea is doing a documentary for broadcast television having to do with the Volcanoes of the Caribbean and the final work will be done on this expedition. If you would be interested in finding out about future Caribbean Volcano Cruises, please contact David Lea at the email address above. We can put you on the waiting list and keep you up to date on what might be coming up.We may begin to schedule more than one volcano cruise each year if necessary and we are also adding new adventures along the way. This year we did "canyoning" in Guadaloupe. After hiking through the rainforest you come to a big waterfall where you dress in neoprene suits and helmets and proceed to jump into the emerald pool at the bottom of the falls. The next two hours alternates between more jumps and long slippery slides down the ancient lava flows formed by the rushing water moving over them for thousands of years.
The original reason for putting this trip together was to complete "The Volcanoes of the Caribbean" video documentary, but now the volcano expedition has become an annual part of the summer cruise schedule of the Sir Robert. We climb to the craters, take the hikes, visit the important sites, and take a close up look at some of the most fascinating islands in the world. You can look at this map to see the featured volcanic islands we may visit. We usually spend 2 days at each island, which gives us plenty of time for some incredible adventures.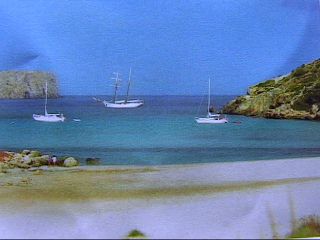 The ship is also completely outfitted for diving expeditions and everything needed is available. One of the most memorable dives is on the wrecks of Saint Pierre, Martinique. As you may know, this is where 29,000 people were killed in just a few minutes on May 8th of 1902 by a monstrous pyroclastic flow that erupted from Mt. Pelee The ships in the harbor all sunk and this makes for one of the most interesting dive sites in all the world.
What will it cost?
It generally breaks down to about $200.us per day and this includes everything, (except scuba diving costs). Three great meals a day, drinks and mixes, ground transportation, port and immigration costs are all covered which lets you just kick back and enjoy one of the most romantic, interesting, scenic, adventurous, and fun trips of your life. Depending on where the cruise begins you may fly into Antigua, Martinique or St. Martin.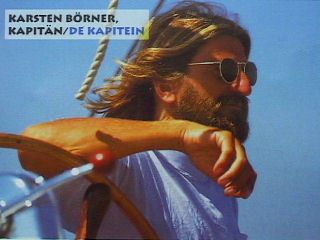 We usually sail back to St. Martin, but each cruise itenerary may be different. That will all be decided way ahead of time so that you can make your flight reservations.
So.................................
If you are seriously interested, please get in touch with us, so that we can include you on our list for the next cruise and keep you informed. We will be updating this site from time to time to keep everyone up to date.
About David Lea:
My family and I have been living in Montserrat for over twenty years, and with a background as host of the popular television program, Caribbean Crossroads, I had some experience with video production. From the first rumblings of the Soufriere Hills Volcano, I found myself getting more and more involved in documenting the events and getting this information out to the Montserratian community here and abroad. This has resulted in the seven volume video series, The Price of Paradise. You can check this out at: http://www.priceofparadise.com You may also have seen footage from this series on various, well-known television productions such as stories by National Geographic, Dateline, Discovery, etc.... Throughout this time I became more and more interested in videography, volcanoes, and their documentation.
This led to other projects, such as the educational videos I produced with Bristol University's Dr. Steve Sparks, former head scientist at the Montserrat Volcano Observatory. We both felt there was a need for teaching videos to instruct and inform geology students at the university level about Montserrat's andesite volcano and also for middle school students for earth science classes. We also plan a Volcanic Hazards video, born out of the deaths that occurred here in Montserrat on June 25, 1997. This was a volcanic event in which I, myself, could have perished but for the Grace of God and a basic understanding of the very real dangers of this type of "grey" volcano. We trust that this hazards video will be helpful in informing people living around other Caribbean volcanoes what the dangers are, and the risks involved in remaining in areas that are declared unsafe due to volcanic activity.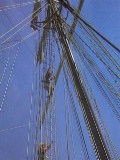 This brings us back to "The Volcanoes of the Caribbean" , a video documentary I began working on some time ago. I have been visiting the other Caribbean volcanic islands with the purpose of building an archive to be used in this project and through our first two cruises we already have footage of Saba, Statia, St. Kitts, Nevis, Dominica, Martinique, St. Lucia, Guadeloupe, Grenada St. Vincent and of course, Montserrat.
So that's the news for now. We hope this has helped to explain what our cruises are all about. If you have any questions, please don't hesitate to contact us. It helps to plan everything way ahead. That way we would know how many folks wanted to dive, hike, do a science trip, tour etc. The main focus of the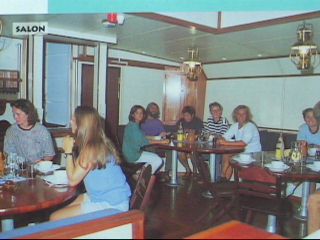 journey will be the volcanoes, but we hope to have plenty of adventure of every kind, for everyone. By the way, you are free to take part in the sailing of the ship and for many, this will be the highlight of the trip. This is a classic sailing ship and has won awards in numerous Tall Ship Festivals.
Hoping to hear from you,
David Lea ( Lead@candw.ms )
Montserrat, West Indies
---